My kids are always wanting to make craft projects, and I found this cute way to use our leftover toilet paper roll tubes (and with a big family, we have a LOT of those!) Added bonus, you can make a snowman with no snow required!
Here's what you'll need:
Empty toilet paper roll tube
White paper
Small single hole puncher
Pipe cleaner approximately 3 inches in length
Two medium size puffballs
One small size puffball
Small piece of felt cut into a rectangle approximately 5-6" long by 1" wide
Two googly eyes
Black marker
Scissors
Glue
Clear tape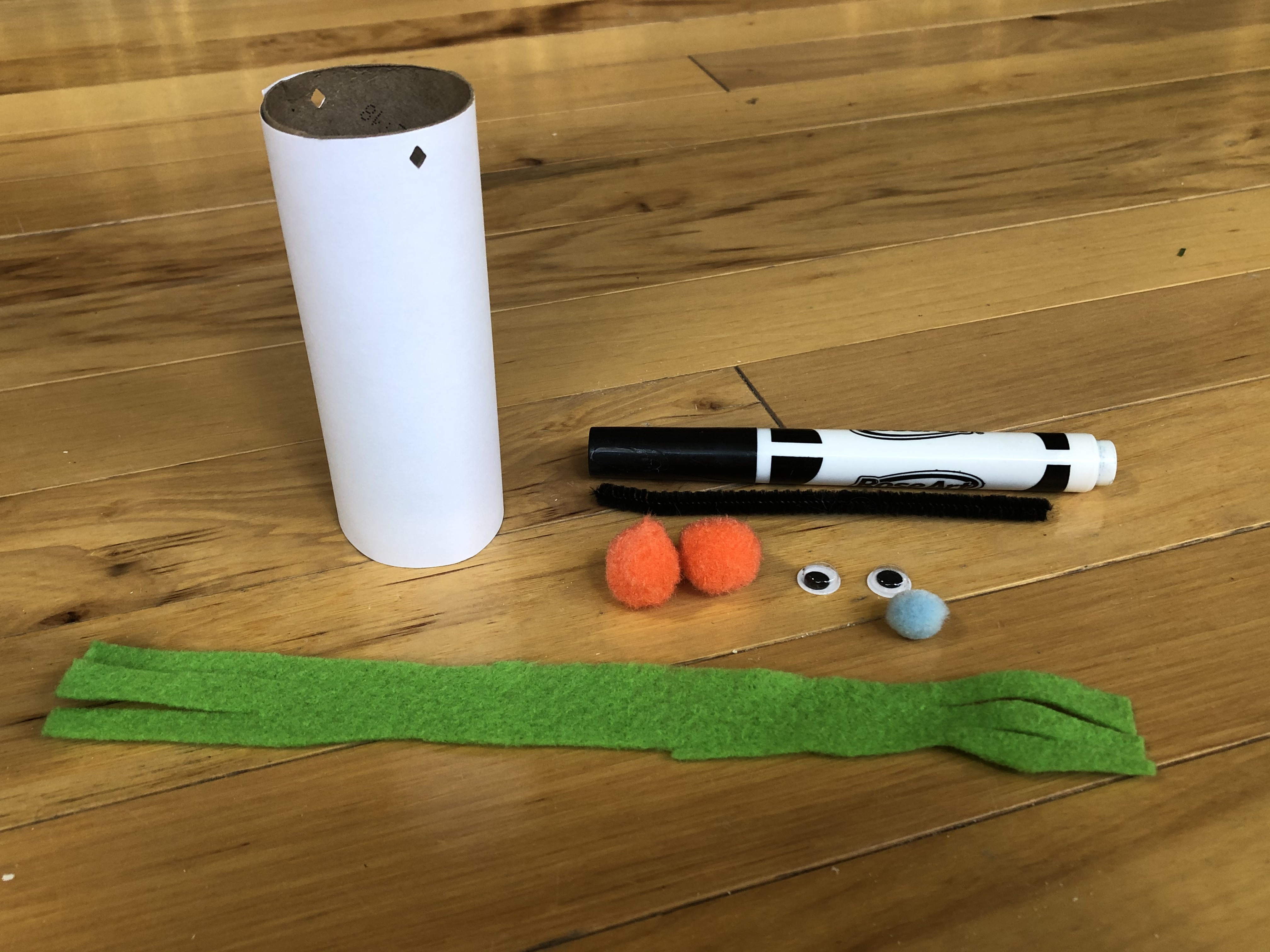 Assembly instructions:
Wrap the empty toilet paper tube in white paper and secure with a piece of tape.
Cut the excess paper off each end of the tube.
Using the small hole punch, put a hole near the top of the tube on each side - these holes will be where the earmuffs attach.
Thread the pipe cleaner from the inside of the tube and out through the hole on each side. Bend the pipecleaner over on itself to secure it to the tube. Shape the pipe cleaner in a half-circle shape over the top of the tube.
Glue one of the medium puffballs on each side of the tube where the earmuff attach.
Glue the two googly eyes on the front of the tube.
Glue the small puffball on the front of the tube to make the nose. If you'd prefer a carrot nose, you can draw a triangle with an orange marker or use a piece of orange paper or fleece into a triangle and attach it with glue.
Use the black marker to draw a mouth -- you can make it out of dots to look like pieces of coal.
Cut small slits in each side of the piece of felt to make the scarf.
Wrap the scarf around the back of the tube, crossing it in the front and securing with glue -- we found it worked best to put a thin line of glue along the entire length of the scarf (except the fringe) before wrapping it around.

You can make a whole family of snow-people! If you'd like to vary the size of your snow-people, you can use an empty paper towel roll tube and cut it to the size you'd like!
Enjoy creating this easy and fun craft with your kiddos!
🌸 🌸 🌸 🌸 🌸 🌸
To stay IN THE KNOW, subscribe to our free weekly newsletter!
Each week, you will receive fresh new ideas of local family-friendly events.
Get social with us on Facebook too!
Macaroni Kid is a free weekly e-newsletter, online calendar, and website proudly serving families in the Grand Haven, Spring Lake, and Muskegon areas.
Do you have an event you want listed? Submit your information HERE!
Want to advertise your locally-owned business? Email us at sarahboucher@macaronikid.com