Breslyn is a 7-year-old Irish Spotted Newfoundland, and she has a very important job! Breslyn is a Therapy Dog through the Alliance of Therapy Dogs, and she LOVES her job! Her name is inspired by the Michigan State University Breslin Center, but is spelled with a "y" to make it a girl name. Breslyn works at the library, at school, and in the hospital. At the Loutit Distrct Library in Grand Haven, MI, Breslyn is the star of the "Reading with Breslyn" program. She encourages literacy by sitting with kids while they read to her, or while parents show a picture book to younger children. Sometimes Breslyn even makes special appearances at the library summer story times.
So why read to a dog? It can improve confidence of the reader as dogs don't judge like humans can and it can reduce stress, which is especially important for hesitant readers. Check out the calendar for the dates Breslyn will be working at the library and perhaps you can join her!
When Breslyn isn't busy working at the library, she visits patients and staff at Holland Hospital both in the Emergency Department and on the 6th floor. In case that wasn't enough, Breslyn also goes to school at Macatawa Bay Middle School to visit two different classrooms of children with special needs.
How does Breslyn keep track of all of her appointments? Simple, her owner/secretary, Char Nash, handles all of the administrative duties as well as transportation! Char has been doing Therapy Dog work since 2002 and has had three therapy dogs including Breslyn. In addition to all of her work locally, Char and her dogs have flown to Texas in 2005 after the hurricanes to help families impacted by the storm as well as traveled to Northern Illinois University in 2008 to provide support to the crisis teams after the campus shooting.
Why does Char do this work with Breslyn? It's simple, "my favorite part is seeing the smiles on everyone when they meet her. Bres can make anyone smile when they are down and out. I have seen her make someone giggle that hasn't done that they entire time he has been at school! Sometimes they think she is so big, then she sits and her tongue hangs out, and she takes one look at you, and it's over, you are in love!"
Don't miss your opportunity to see Breslyn at the Library March 21 and April 18, 2020. Visit our calendar for all the details!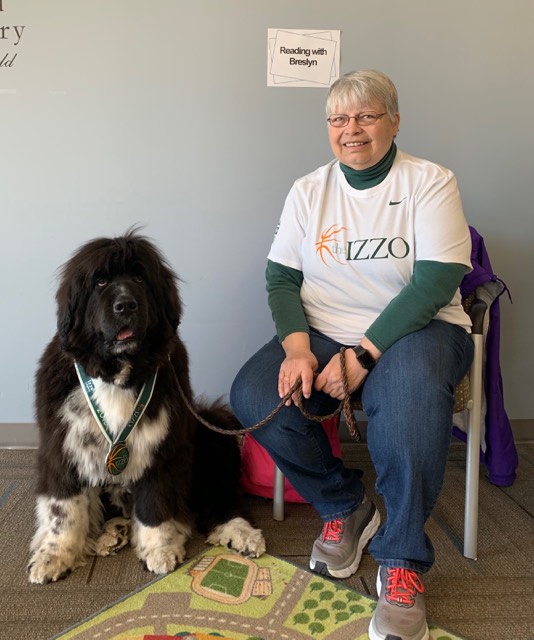 🌸 🌸 🌸 🌸 🌸 🌸
To stay IN THE KNOW, subscribe to our free weekly newsletter!
Each week, you will receive fresh new ideas of local family-friendly events.
Get social with us on Facebook too!
Macaroni Kid is a free weekly e-newsletter, online calendar, and website proudly serving families in the Grand Haven, Spring Lake, and Muskegon areas.
Do you have an event you want listed? Submit your information HERE!
Want to advertise your locally-owned business? Email us at sarahboucher@macaronikid.com